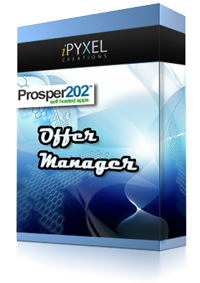 A lot of you complain about how much of hassle it is to update P202 campaign payouts and affiliate URL's one by one whenever there is a tracking link change or payout change. Say no more! iPyxel brings you P202 Offer Manager and should save you lots of time if you ever need to swap URL's or adjust payouts for a ton of "Aff Campaigns" in Prosper202.
Features:
Retrieves a list of all of your Aff Campaigns from your P202 server and shows you their networks, payouts, and affiliate URL's
Allows you to change names and copy/paste payouts and URL's across campaigns all within one screen.
Internal "Offers Catalog" helps you keep track exactly which campaigns is running which offer and allows you to edit payouts and URL at the offer level instead of individual campaigns.
---
Requirements:  Microsoft Excel, preferably 2007 or 2010. Windows Only.
File Size: 107.4 KB
[wpdm_file id=4]
This tool is available for subscribers only. If you haven't subscribed, simply join our mailing list on the right hand sidebar. If you have subscribed and cannot locate your password, please contact us directly.
---
Note: This application requires your login credentials. The credentials will ONLY be saved locally on your computer, so you can rest 100% assured that your credentials are safe.
Please watch this quick video on how to use this tool:
If there are any bugs, please email me a screenshot of the error message and the subsequent screen after you hit the "debug" button, and I will fix it for you! Any additional questions about usage, please post in the comments below so everyone gets the benefit.
If you like this and other free tools, support us in making a small donation. We appreciate it!
Never miss a feature, product launch, or exclusive offer
11 Comments