With as much experience as we've had in POF, there are still a lot of questions we have yet to answer and a vast more that we haven't even thought to ask.




That said, recently we decided to tackle one question that's been in the back of our heads for a little while regarding landing page performance and landing page display resolution.

The Big Question
With all of the various screen sizes that exist in the world today, we wanted to find out which display dimensions we should use to create our landing pages to best cater to our POF demographic.

So to find that out, we had to ask ourselves: does display resolution affect landing page performance?.

Our Preparation
With that question in mind, and a set budget of $500, we started to prepare our test. After a little bit of research, we found a list of the most popular resolutions used in the US.

Taking that list, we found 3 resolutions we decided to use
1024×768 – "Low-Resolution"
1366×768 – "Mid-Resolution"
1920×1080 – "High-Resolution"
Finding Our Landing Page
Before we could test the various resolutions we wanted to start out with a landing page that performed well, but that we hadn't used before.

Immediately, we began testing numerous landing pages each varying in design and complexity until we had a steady landing page click-thru of 40%.

Since we only cared about how visually alluring the landing page was, we didn't want to concern ourselves with any other performance metrics like conversion rate or creative CTR.

Below was our resulting layout: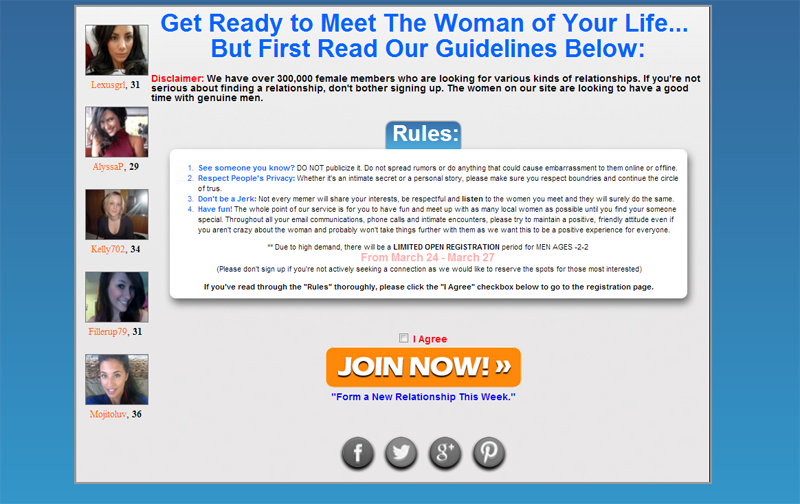 Live versions:
Low-Res | Mid-Res | High-Res
Campaign Targeting
Once we found our landing page, we then took that design and layout and applied it to our top 3 resolutions as seen in the links above. Each landing page was separated into 3 campaigns all targeting US males ages 30-39 with a login count of <50 which helped us keep everything properly organized.
Setting The Rules
The most important thing about any test is to abide by a strict set of rules.

Our rules were simple:
Use The Same Creatives for each landing page. While we desired the lowest possible cpc, we felt that interfering with the creatives process would skew data. If one campaign needed more creatives, the other two got the same creatives injected as well.
Stagger Each Campaign's Bid by just $0.01 each to maintain placement fairness.
Rotating Bids between the three campaigns each day. This was an attempt to lower the influence of placement on performance as much as possible while preventing two of the same creative appearing at once
Only Running During The Day to keep an eye on creative performance.
And The Winner Is…
After we spent our budget $500 to find and test our landing pages, we felt we had enough data to draw some conclusions. Before we break down our findings, let's take a broad look at what we found: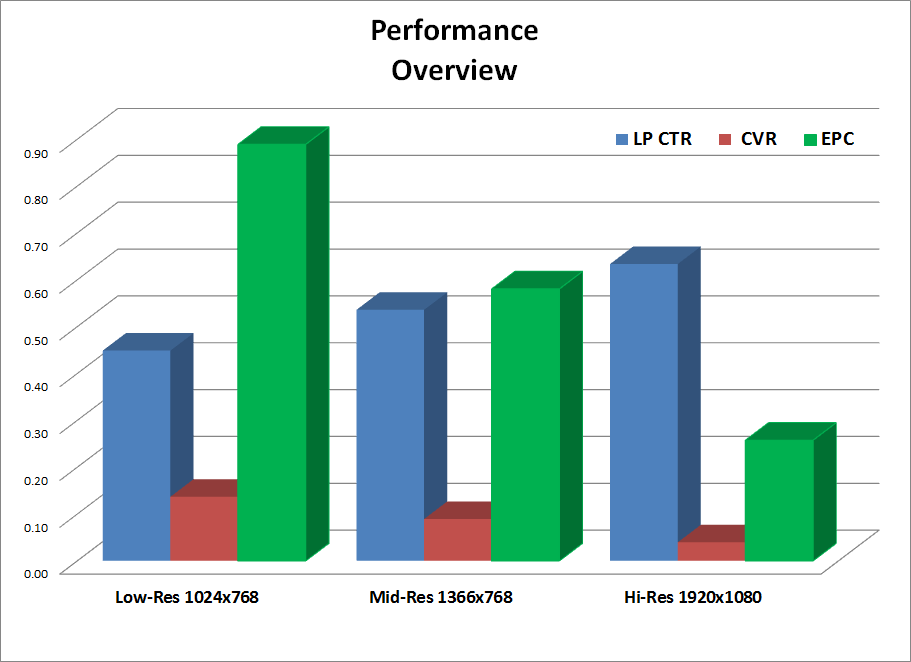 At first glance this may seem a little jumbled, so I'd like to provide the important metrics individually.
CTR (Click-Thru Rate)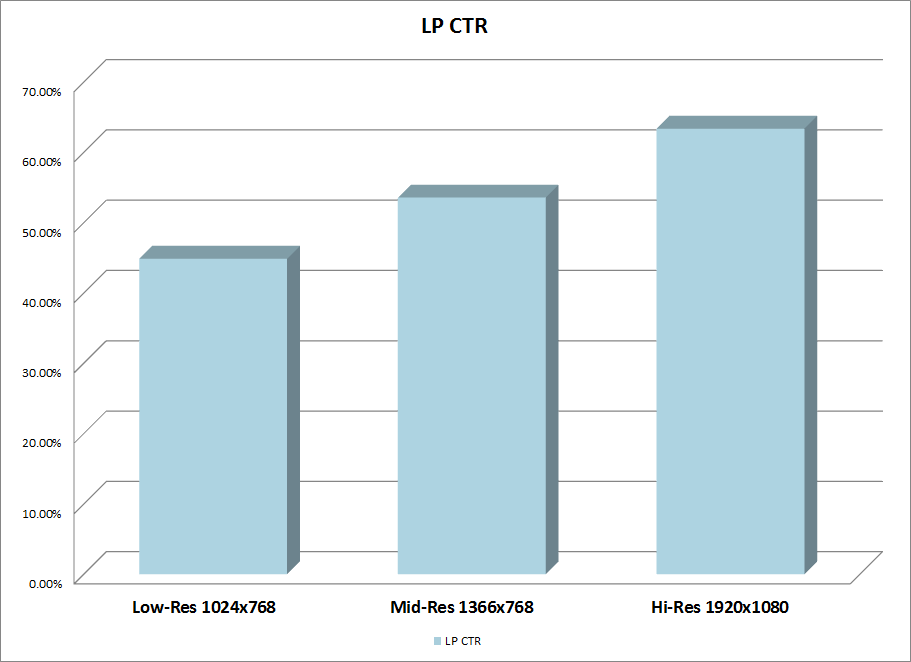 The primary focus of these landing pages' performance was on the landing page CTR. As you can see in the graph above, the landing page catered to the largest display resolution had the highest CTR. While we can only speculate as to why it got more clicks, we have our suspicions.
CVR (Conversion Rate)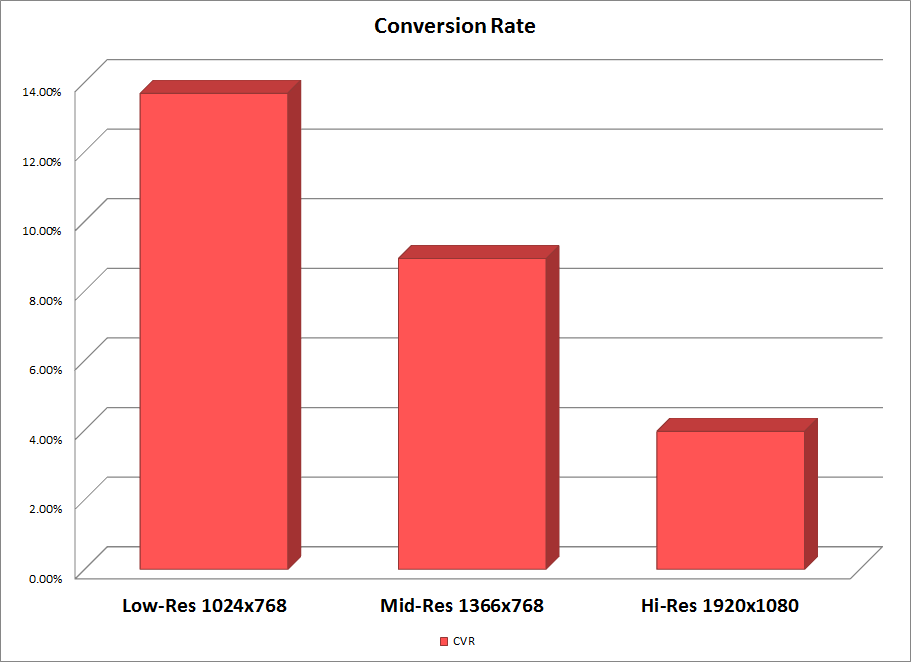 Oddly enough, while the high-resolution landing page yielded the best CTR, it also got the worst conversion rate at just 3.96%. Since we only used this one design for this resolution, we can't know why users clicked to go on to the offer but failed to act. Historical data has shown us that a high click-thru and low conversion rate is mostly due to misleading images or copy, but since the other landing pages had the same content, that doesn't seem to apply here.
Profit/Loss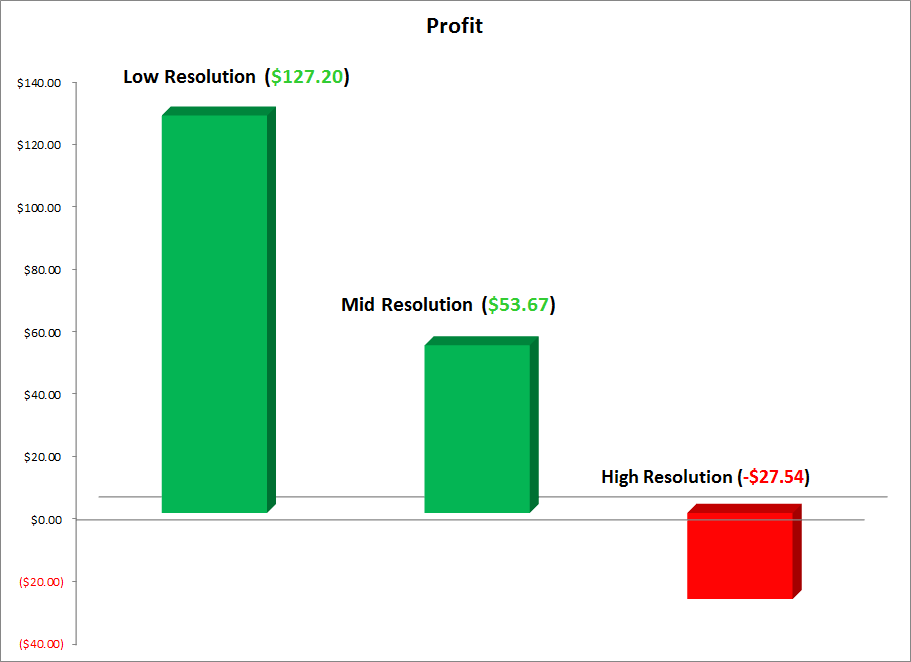 Lastly, for those curious about how much the resolution affected our ROI, to the left is a graph which shows how profitable each landing page resolution was. Although the low-resolution landing page had the lowest CTR, with it's greater CVR, it was the most profitable with $127.40 in profit. The opposite could be said for the high-resolution page which actually lost $27.54 in total.
Conclusions
Taking into consideration the larger images, if users with a smaller screen saw the high-resolution landing page, they might see mostly a set of images scrolling down their screen, thus placing all of the focus on images and not on copy. But if users aren't seeing our copy, we're missing out on an opportunity to convince them to act in our favor. This may explain the high CTR but low CVR for the high-resolution page.
Also notice how our landing page is a little wordy; users are more likely to be able to read all of our copy in the low-resolution so that when they clicked to the offer, they had a higher intention of signing up.
Last Words
We can speculate all day as to why one page performed well over the other; but without further testing, we won't know. What we do know is that the smaller display resolution performed the top 2 most popular by a large margin. Ultimately, take the above data into consideration when you're designing your next landing page to truly get the best out of your landing pages.
Never miss a feature, product launch, or exclusive offer
8 Comments