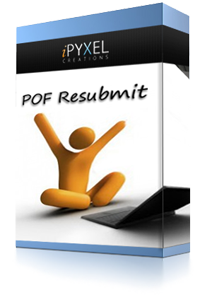 Update 10/30/2012: POF recently made some changes to their interface that completely disabled this software's abilities to retrieve the proper data it needs. We've since made an update. Yay! Download the updated working version below.
Are you tired of manually resubmitting your declined POF ads one by one?  Sometimes, we put a lot of work into creating and uploading ads and might come back to find them all declined due to a landing page issue or simply consistency in reasoning.
Well, dread no more!  iPyxel Creations presents you with POF Ad Resubmit:
Review a list of declined ads across multiple campaigns along with POF's reasoning for each ad
Filter out ads with certain reasoning that you do not want to resubmit so you don't unnecessarily waste POF's time
Resubmit your custom list of ads across multiple campaigns with one click!
---
Requirements:  Microsoft Excel, preferably 2007 or 2010. Windows Only.
File Size: 239.6 KB
[wpdm_file id=5]
This tool is available for subscribers only. If you haven't subscribed, simply join our mailing list on the right hand sidebar. If you have subscribed and cannot locate your password, please contact us directly.
---
Note: This application requires your login credentials. The credentials will ONLY be saved locally on your computer, so you can rest 100% assured that your credentials are safe.
Please watch this quick video on how to use this tool:
If there are any bugs, please email us a screenshot of the error message and the subsequent screen after you hit the "debug" button, and I will fix it for you!
If you like this and other free tools, support us in making a small donation. We appreciate it!
POF Disclaimer:  Please do not abuse this tool!  I urge you all to be extremely respectful of POF and to not resubmit ads excessively.  POF, with Ben and the rest of the team, is the most affiliate-friendly self-serve platform out there, and we want to keep it that way by doing business with them professionally.  POF is not Facebook, and you are developing a relationship with the few employees who work hard to approve your ads.  If you resubmit ads unnecessarily (i.e. resubmitting Adriana Lima a million times), they will remember your account and return the favor by being extra hard on all your future ad submittals.  More importantly, please do not ruin our good will with POF for the rest of the affiliate community.  iPyxel only condones the resubmittal of ads due to landing page issues or inconsistent reasoning in ads.
Never miss a feature, product launch, or exclusive offer
8 Comments