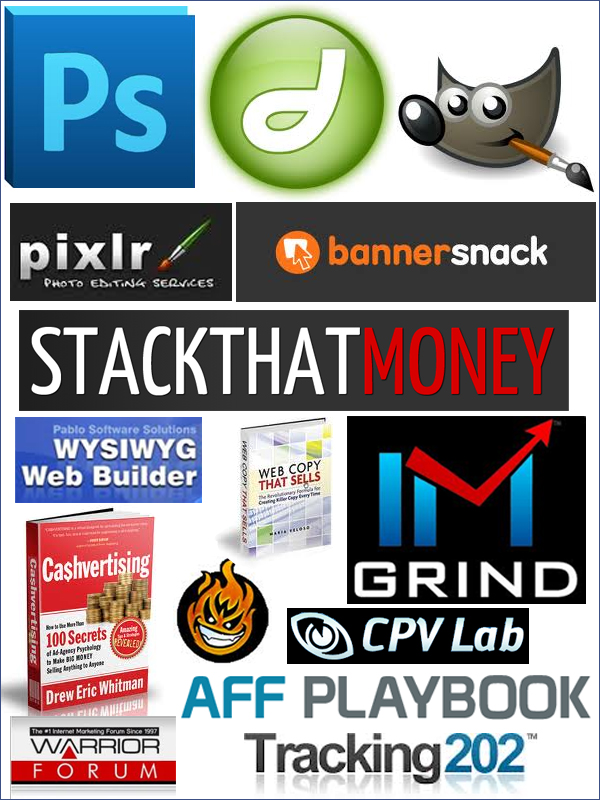 Gathering the proper tools to create a successful campaign can seem a little expensive to the novice marketer. Take into consideration the cost of Photoshop, Dreamweaver, advertising/design/html books, forum subscription, plus tracking. Combine that with the minimum you should reserve for testing ($1,000) and you could be spending over $1,800 before you're even into your marketing career with no guarantee of success. While I truly believe that in order to be a big player in this field, one needs to spare no expense when it comes to utilizing the array of premium tools and resources available, I understand that not everyone is willing to dive in head first into the uncertainty of marketing. That's why I wanted to take some time to compile a list of free tools and resources available at your disposal. Continue reading to see if you can start your campaigns sooner than later while on a budget.
Creative/Banner Creation
Photoshop is an incredible piece of software which allows really no explanation. But if you're on a budget, the price tag may be a little hard to swallow. If that's the case, I urge you to check out Gimp, Pixlr, or Bannersnack. These image editors (while they admittedly pale in comparison to Photoshop) give you the basic tools you would need to create simple banners and small ads which is all you really need when first creating campaigns. You may not be able to utilize batch processing or create animated GIFs with these image editors. But at the very least, you can create banners of various sizes, backgrounds for your landers, and even buttons and eye-catching CTA's for your landers.
Landing Page Design
If you've taken a look at any of our previous posts on landing pages, you may have noticed that all of the tutorials were mostly provided using Dreamweaver. I could rant all day about how great an asset Dreamweaver has been to my landing page creation process, but I figure it mostly goes without saying that due to the lack of any computer tech background, designing a landing page without Dreamweaver would have taken forever to learn. However, with its $145 price tag, you may be wondering if there are cheaper alternatives out there. For that, I would direct you to the WYSIWYG Web Builder which provides many of the same features as Dreamweaver at a fraction of the cost. Although WYSIWYG isn't as popular as Dreamweaver among other advanced marketers, WYSIWYG still has features which allow you to easily create landing pages for your campaign. Features like creating simple forms with various button types, inserting navigation elements, advanced elements like Quicktime, Real Player, Flash, and a few other elements that you can use to make a successful landing page.
If you're not sure about spending the $44 on the WYSIWYG Web Builder, there are even more financially-conservative routes like Notepad++ and Bo.lt. Bolt is an online web page editor which allows you to copy any web page, edit its content by deleting current images and uploading new images, then save and download the newly edit page. Not only is bolt a great way to mimic offer pages for your landers, it's a great way to create new and unique landers right you're your browser. Notepad++ is simply a more user-friendly web page editor than your typical notepad. It does require a more extensive amount of knowledge of HTML than if you were using Dreamweaver or WYSIWYG but, when combined with the use of bolt, becomes a slightly more manageable and useful tool for the novice marketer.
Books and Forum Subscriptions
One thing that needs to be abundantly clear is that without some community support or books on how to effectively advertise a product, your chances of success drop dramatically. This is why forums like STM, AffPlaybook, and IMGrind are so popular. These forums and a few others were created by successful people in the marketing space and provide some of the most useful tips and tutorials an internet marketer could ever ask for. However, subscribing to these forums can cost you a couple hundred dollars a month. So while I believe there's truly no substitute for the aforementioned forums, there are free alternatives like Marketing Scoop, Wickedfire, and Warrior Forum. These are less-reputable forums and may be frustrating at times, but they're much better than nothing at all. Combined with some affordable literature which can be crucial in the development of your campaign I would suggest investing a few dollars in the widely popular Ca$hvertising, Scientific Advertising, and Web Copy That Sells. These books can be incredibly helpful in your campaign process and while they hardly act as a substitute for the paid forums previously mentioned, the information you can find in these books along with what you may find in the free forums can be a less expensive alternative.
Tracking
In terms of tracking, you should be using the world's best tracker: Thrive Tracker.
Thrive is the most cutting-edge performance marketing tracking solution for today's high volume media buyers, agencies, and affiliate and direct response marketers. Track, analyze, and optimize on dozens of custom meta data points and multi-variate reports.
As I state throughout this post, the alternatives for the myriad of premium tools and resources I mentioned should not be considered permanent replacements. These are merely less expensive routes which are available to people just getting into internet marketing. Once a greater foothold has been established, I highly suggest further investing in your marketing efforts.
In terms of priority, I believe Thrive should be at the top of everyone's list.
Never miss a feature, product launch, or exclusive offer
One Comment