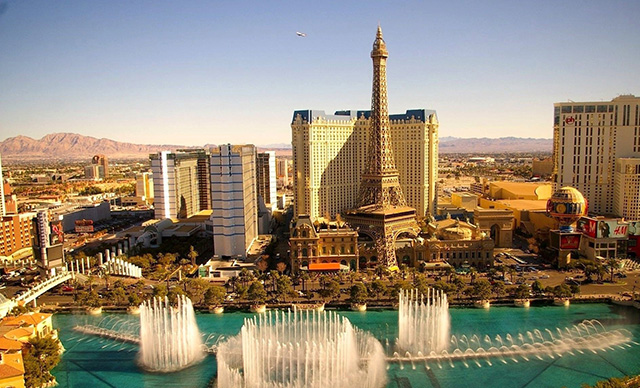 Last year, regrettably, I had scheduled something during ASW, and I really felt like I missed out on opportunities. This year, that wasn't going to happen again. As usual, I attack conferences by myself. But, this time, since I had recently made the move to LA, I decided to drive to Vegas. 3 hours and 45 minutes and I was in Sin City!
I'm writing this post from my room at the Hard Rock, since I decided to stay the rest of the week after the conference to relax. That's the freedom of driving to Vegas, so I am going to take advantage and check out rest of Vegas. Lots of people don't know, but the Strip is really the touristy part of Vegas. It has a separate downtown that's very different.
In terms of the conference, I know it almost sounds like a cliche thing to say now, but this has been the most productive (and more tiring) conference I've attended so far. I got upgraded to the 5+ badge, proudly, for having attended my now 5th Affiliate Summit.
This time more than any other time, I scheduled a ton of meetings in advance with various guys in the industry who were much more successful than myself, and I think that's what you always want to do.
Of course, I made time to attend all the great meetups: Facebook Ad Buyers by Tim Burd, StackThatMoney, AffPlaybook, Adsimilis, W4, and a couple of smaller groups. These are by far my favorite things at the conferences as they are the best opportunities to make new connections face to face, as well as see a lot of your old connections at once.
I am pretty relentless at the meetups meeting people. I was really pleasantly surprised to hear that about 50% of everyone who I talked to had already heard good things about THRIVE. We have only launched it 3-4 months ago, and I am super happy with the awesome growth just from word-of-mouth.
Being a completely self-funded bootstrapped company, we do not have a marketing budget. We don't get booths at conferences, nor do we spend on advertising. The most we've done with THRIVE is me hustling, whether that's on forums or in person. And that's because we'd like to focus all the resources that we DO have on making a superior product the best there is on the market, and also providing incredible customer service and support.
We believe that focusing on product and support is the key to our success because that's what will generate the most powerful marketing effect, which is word-of-mouth. It's much more impactful to hear from someone you trust that they had a great experience than to see some ad.
Shawn and Missy always bring heavy-hitters in terms of conference speakers, but I think they really stepped it up with Noah Kagan as the keynote for ASW 2015. Noah made some really good points about building solid relationships because, after all, our entire businesses are built upon relationships. Some of the tips, such as sending physical hand written mail or a thoughtful gift every year, I know yields tremendous results, but it's always a good reminder.
Noah was also pretty non-traditional in getting the audience to participate. He actually brought half of his speaker fee in many stacks of cash and handed them out. The idea was to give each of us $10 so we can meet a stranger, get to know them, and buy them a thoughtful gift after.
Personally, I had met Noah a couple years ago in Chicago. He's doing great things for the entrepreneurial community, and while his arrogance can rub you the wrong way sometimes, he's a true problem-solving genius, and ASW really delivered.
The highest ROI that I got from the conference, though, has to be the individual meetings that I set up ahead of time. Because of our nice growth and success, we're getting some investor and acquisition interest. These are the meetings that might have been 30 minutes long but could result in monumental things in the near future.
All in all, another fantastic Affiliate Summit in the books, and I can't wait to do it again in NYC for ASE!
Never miss a feature, product launch, or exclusive offer
One Comment