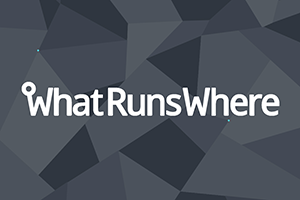 The best strategy for making any marketing campaign is to only use what works. Sounds great, but how do you figure out what works?
In performance marketing, it is incredibly important to split-test creatives, even different elements of your creatives in order to optimize CTR. The only problem is that split-testing ads takes time and costs money.
Wouldn't it be nice to eliminate at least some of the trial and error portion of your campaign process? That's where the WhatRunsWhere platform comes into play.
What is WhatRunsWhere?
WhatRunsWhere is a powerful competitive intelligence tool that helps marketers see exactly who's advertising what and where.
With just a simple search you can easily see what display, text or mobile ads that any specific domain is advertising. More importantly you can see exactly where all of these ads are being placed. This information is vital for eliminating some of the guesswork while creating your campaigns.
WhatRunsWhere is commonly used to:
See where specific advertisers are placing their ads
View exactly which banners these advertisers are using
Uncover the landing pages linked to the ads
Know exactly how long each advertiser has been running each specific ad
Now you can save time and money by picking up the insights that cost your competition the big bucks to figure out.
Data for Days
Between the hundreds of thousands of places to run ads, how do you find the optimal places to run each ad?
WhatRunsWhere tracks data on over 90 display networks, over 100 mobile networks, AND covers over 150 thousand unique publishers in each of the 15 countries it covers.
There is over three years of collected data within the platform, which enables you to see how long specific campaigns have carried on for, which can provide great insight on profit longevity.
This plethora of data makes it simple to pinpoint exactly where you should be running your ads for optimal results.
How to Find What You Need
For those of you who get intimated by the thought of sorting and sifting though endless data, you'll absolutely love how easy it is to find and read the results WhatRunsWhere generates.
For these examples I will pretend that I am targeting the dating niche and am looking to figure out where top performing dating ads are being placed and what they look like. There are two ways I can search for this information, search by the advertiser or by conducting a keyword search.
Search by Advertiser
This search option is perfect if you are looking to figure out where a specific site is advertising.
Simply run a search for the site you are looking for and voila!


From here you can view all the ads that they have been running (both display and text), what ad networks they used, traffic sources, placement suggestions and much more.

All the information you need to get a leg up on your competition's online advertising campaigns.
Search by Keyword
The search by keyword feature is great if you are simply looking to get a general idea of all of the top performing ads and where they are running.
By simply entering a keyword such as "dating" and choosing ad type, the platform will load all of the relevant top performing ads. This feature is great for uncovering more competition or gaining inspiration from highly optimized ads.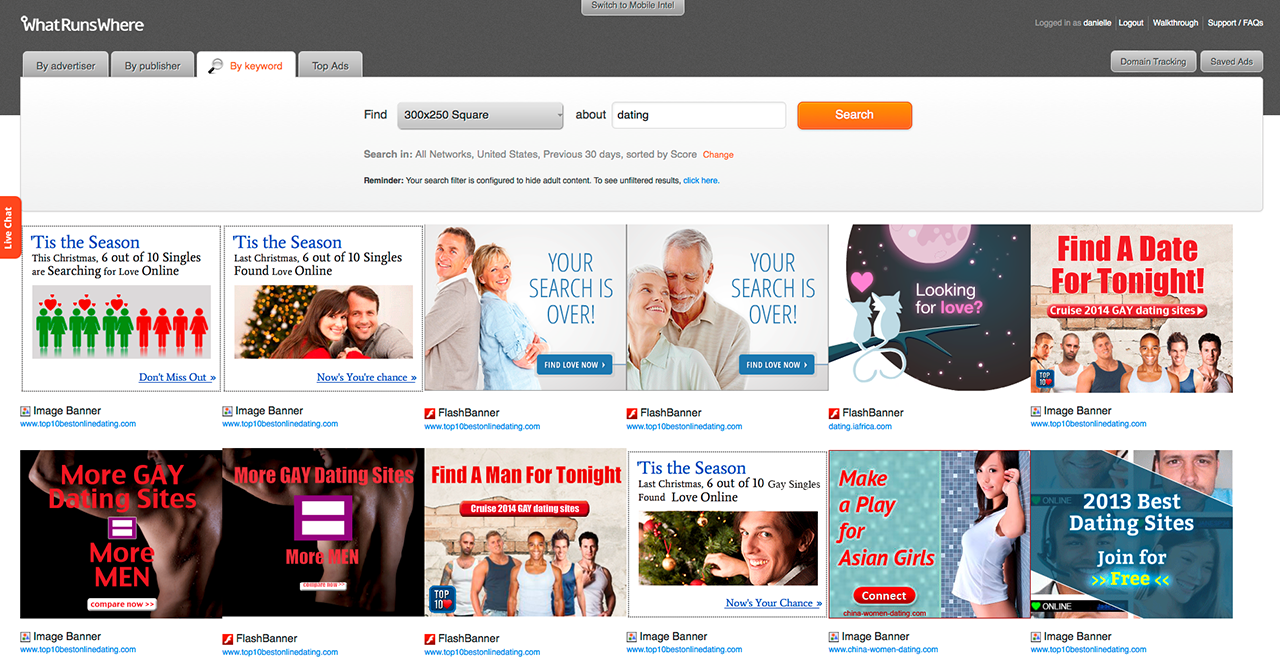 Making Online Advertising Uncomplicated
Sometimes having too many options just makes things more complicated. WhatRunsWhere allows you to instantaneously view all top performing, where they are running, and take advantage of competitor campaign insights.
Ready to spy on your competition? Click here to receive a 7-day risk-free trial to WhatRunsWhere for only a $1!
Never miss a feature, product launch, or exclusive offer